We often overlook our hair in daily routine, taking it for granted until it's gone. A few signs to look out for hair loss are age, genetics, stress. If the cause for hair loss is stress, then you may want to look at other means for de-stressing. However, if your hair loss is caused by age or genetics, the solution for many would be hair transplant, which can help bring back the appearance of a fuller crown of hair.
Hair Transplant is a surgical technique that moves hair follicles from the "donor site" to a bald or balding part of the head, known as "recipient site". The procedure is minimally invasive and is usually used to treat men suffering from baldness.
Mainly, there are 2 methods for hair transplant: Follicular Unit Transplant (FUT, also known as strip harvesting method) and Follicular Unit Extraction (FUE). In Beverly, we use the Follicular Unit Extraction (FUE) method. The procedure begins with a mild sedation and an injection of local anesthesia. The scalp is then shampooed with an antibacterial agent prior to the graft harvesting.
What is Follicular Unit Extraction (FUE)?
Follicular Unit Extraction (FUE) or FUE Harvest Procedure begins with individual follicular units (grafts) containing 1 to 4 hairs being extracted. The extraction is done in micro basis and uses tiny punches of 0.6mm to 1.0mm in diameter. The surgeon then uses a fine needle or micro blade to puncture the area receiving the grafts, placing them in a predetermined angle and density to reflect realistic hair pattern.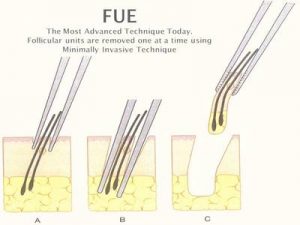 How long is the procedure?
Depending on your surgeon, the FUE procedure could take place either in a single long session or multiple shorter sessions. As the FUE procedure extracts individual follicles, it is more time consuming than strip surgery. An FUE surgery time also varies according to the surgeons experience, speed in harvesting and patient characteristics. The procedure can typically take up to a couple hours to extract 200 grafts for a scar correction to a surgery over two consecutive days for a mega-session of 2,500 to 3,000 grafts.
Am I suitable?
There are certain requirements for FUE procedure. It would be best to speak to our doctor for a professional assessment. Let's all root for our roots and gain a crown of glory.